Summer Wedding Botanical Invitations
Summer Wedding Botanical Theme with Traditional Roses or Island Flowers for a Tropical Pink Hibiscus Wedding
Vintage teal summer wedding botanical invitations and tropical pink hibiscus wedding invitations include beautiful choices for your garden or beach wedding.

Vintage Teal Summer Wedding Invitations
Formal and Elegant Meets Garden Aesthetic
This elegant teal and beige summer wedding invitations collection is a beautiful way to announce your ceremony.
Customize your own summer wedding botanical invitations.
Easily modify your 5×7 or square teal rose, summer wedding invitations. This set includes return-address-labels as well as stickers and envelopes.

Pink Hibiscus & Gumdrop Wedding Suite
Dreamy Island Flowers for Your Summer Wedding Invitations
Celebrate your island wedding with a tropical pink hibiscus wedding theme, tropical ginger, and gumdrop flowers.
Bold Pink Hibiscus Flower & Tropical Teal Palm Leaves
Celebrate with island leaves and pink watercolor tropical flower. This set is complete with rsvp enclosure cards, thank you cards, and mailing labels. This beachy stationary set is perfect for pink, aqua, or teal color palettes.

Coral Bahama Blue Plumeria Flower Wedding Invitations
Summer Plumeria flower is Perfect for a Beach Wedding
Colorful pink, coral, Bahama blue plumeria flowers and calla lilies are bright and cheerful on these invitation templates. Fern leaves and palm leaves with a beautiful blue calla lily fit an array of tropical wedding color themes.
Beautiful floral wreaths with green banana leaves and tropical ferns are versatile for bridal showers, reception invitations, and elopement announcements.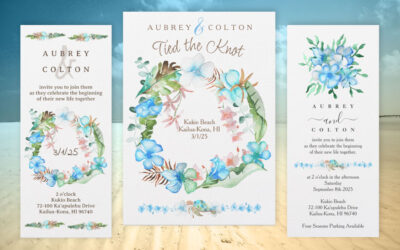 Blue watercolor hibiscus wedding invitation templates are easily customized for your ceremony. Flowery island wreaths and bouquets are beautiful on a variety of tropical wedding stationary.Announce your island elopement with blue watercolor hibiscus elopement...

Consider Fall designs for your summer wedding
All items are printed on-demand from Zazzle. In some cases it can be eligible for replacement or refund.
Please refer to Zazzle's shipping policies for information on returns and turn-around times.