Personalize these unique bar mitzvah invitations easily with your photo and event details.
Tallit bar mitzvah invitations in an inspiring collection of blue & teal striped tallit artwork, traditional prayer shawl and Star of David elements. For more exiting and modern bar mitzvah ideas, go to This Awesome Bar Mitzvah Pinterest Board And if you'd like to see ideas for Bat Mitzvah invitations switch over to these Popular Bat Mitzvah Invitation Templates

Vivid Blue & Green Tallit Unique Bar Mitzvah Invitations
Modern, Yet Traditional
This unique bar mitzvah invitations collection has vivid blue and teal prayer shawls and metallic stars. Bold artwork is complete with matching return address labels, stickers, and Bar Mitzvah welcome signs.
Get to customizing your unique bar mitzvah invitations.
Adjust text colors and fonts to your liking. Easily reposition prayer shawls and photos. Transfer mazel tov, tallit, Star of David elements to a variety of cards and gifts. Jewel tone artwork is attractive for any sage green, forest green, teal green, royal blue, navy blue Bar Mitzvah theme colors.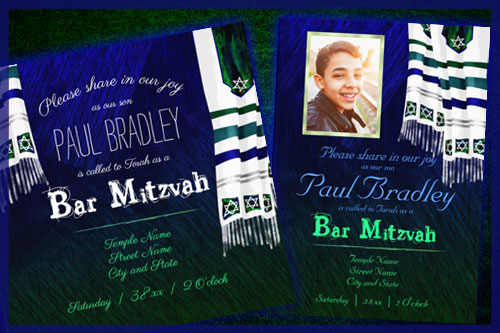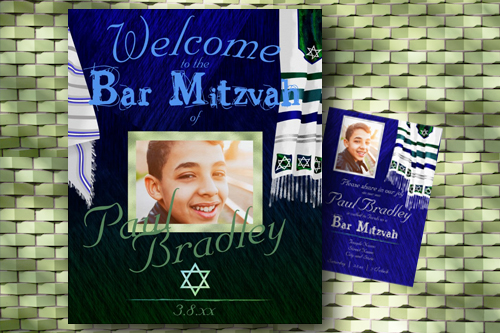 Other Collections by JBlissArt
I offer lots of other stationary gifts for a variety of occasions. Unique invitations for
Bat Mitzvahs and other teen celebrations
with traditional, yet modern artwork can be easily customized for your event!
All items are printed on-demand from Zazzle. In some cases it can be eligible for replacement or refund.
Please refer to Zazzle's shipping policies for information on returns and turn-around times.