Whimsical Bat Mitzvah Ideas in Purple, Turquoise, & Blue
Customize your creative, unique bat mitzvah invitations easily with your photo and your own wording.
Whimsical bat mitzvah ideas in a colorful, fun collection include purple, blue bat mitzvah invitations, and turquoise dragonfly bat mitzvah invitations, stickers, and thank you cards. Choose between square, 5x7, or all-in-one card styles.
If you would like to see a pinterest board full of whimsical, fun bat mitzvah ideas, go to Popular Bat Mitzvah ideas for 2023 And if you'd like to see ideas for Bar Mitzvah invitations switch over to these Popular Bar Mitzvah Invitation Templates

Dragonfly Bat Mitvah Invitations for 2023
Whimsical Bat mitzvah Ideas in Purple, Blue, & Turquoise
Celebrate your whimsical dragonfly batmitzvah with light blue, purple, & turquoise dragonflies. Watercolor textures and glitter Star of David invitations, rsvp cards, envelopes, labels, and stickers. Easily transfer the magical dragonflies designs to other cards and gifts.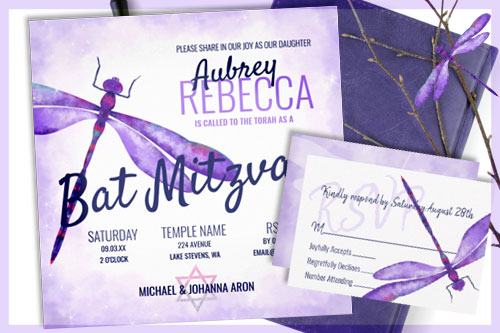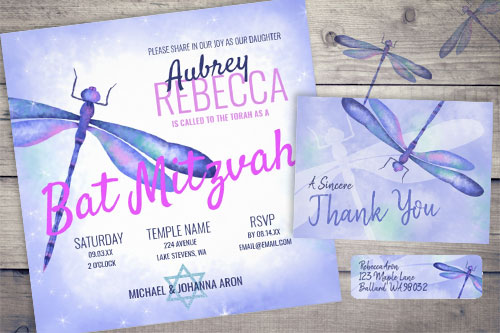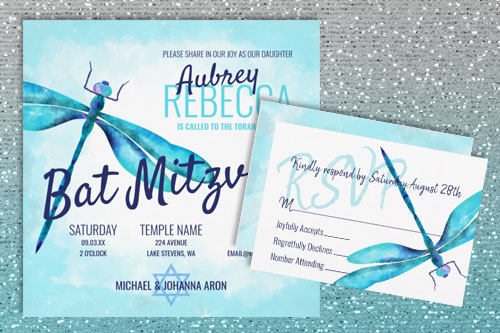 All items are printed on-demand from Zazzle. In some cases it can be eligible for replacement or refund.
Please refer to Zazzle's shipping policies for information on returns and turn-around times.