Tropical Hibiscus and Plumeria Wedding Invitations
Hibiscus and Plumeria Wedding Flowers in an Array of Colors
Hibiscus and plumeria wedding themes are among these popular beach wedding styles. Here, you can also find sea turtles combined with soft blue orchids, orange heliconia plants and more.
Beautiful floral wreaths with green banana leaves and tropical ferns are versatile for bridal showers, reception invitations, and elopement announcements.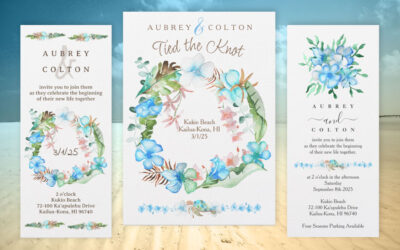 Blue watercolor hibiscus wedding invitation templates are easily customized for your ceremony. Flowery island wreaths and bouquets are beautiful on a variety of tropical wedding stationary.Announce your island elopement with blue watercolor hibiscus elopement...
Color Changeable Envelopes
These convenient pre-addressed envelopes have many size and style options. Monogram and initials on the front or back add a finishing touch. Change the colors to match your stationary perfectly!