Sparkly Bat Mitzvah Invitations
Shimmery, sparkly bat mitzvah invitations are traditional, yet modern
Glitter stars and polka dots on these sparkly bat mitzvah invitations compliment your beautiful birthday photos on glitter bat mitzvah invitations. These collections include scrapbook aesthetic and shimmery tree of life artwork.
If you would like to see my Pinterest board full of glitter bat mitzvah invitations and ideas I've put together, go to Glitter and Sparkly, Popular Bat Mitzvah Invitations And if you'd like to see ideas for Bar Mitzvah invitations switch over to these Modern Blue & Beige Bar Mitzvah Invitation Templates

Scrapbook Photo Aesthetic for Glitter Sparkly Bat Mitzvah Invitations
Glitter Photo Tape and Shimmery Stars on Modern Sparkly Bat Mitzvah Invitations
Beige, light brown glitter sparkly bat mitzvah invitations with pewter, gold, and silver faux glitter and shiny colorful gradients have matching stickers, mailing labels, and RSVP enclosure cards.
Star of David and Polka Dots for Modern Glitter Bat Mitzvah Invitations.
A beautiful way to show off your Bat Mitzvah photo shoot. Also a cute invitation design for b'nai mitzvah friends or twins! Easily upload your girl's photos and party details!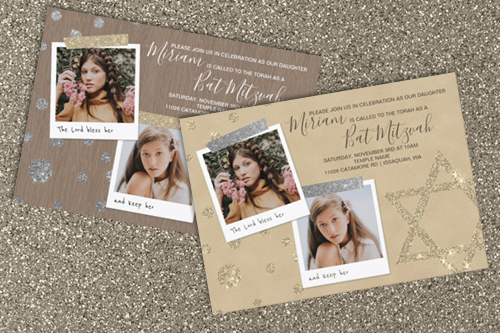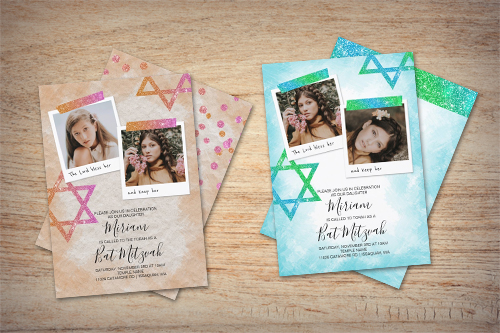 Glittery Blue Tree Bat Mitzvah Invitation Suite
Traditional Tree of Life
This shimmery light blue and yellow collection will dazzle your guests with coordinated cards and labels. Tree of Life and Star of David are designed with glitter and sparkles, and can be transferred to an assortment of card choices and gifts.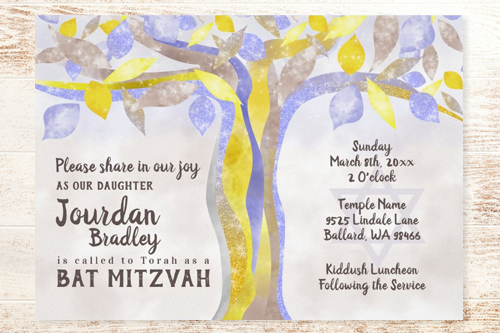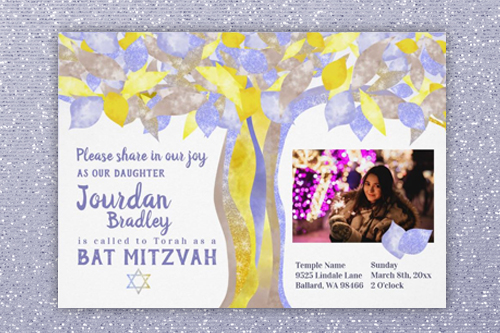 Consider Whimsical Bat Mitzvah Invitations
All items are printed on-demand from Zazzle. In some cases it can be eligible for replacement or refund.
Please refer to Zazzle's shipping policies for information on returns and turn-around times.