Wintergreen Eucalyptus Wedding Invitations
Watercolor Wintergreen Eucalyptus for Cold Rustic Winter Theme
Wintergreen eucalyptus, pinecones, pine needles, and pink roses are among these rustic winter wedding styles. Here, you can also find unique wreath arrangements and attractive color palettes like mint green and chocolate brown.
Rustic pine needle wreaths, brown pinecones, and eucalyptus are beautiful for pine tree forest wedding themes.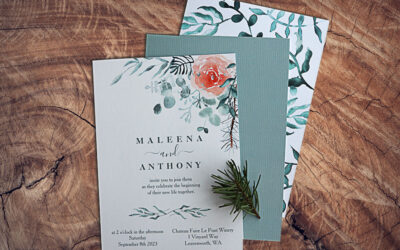 Elegant winter roses with winter plants is a beautiful choice for winter pinks and greens, or sage green and eucalyptus wedding stationary. Leafy green watercolor artwork is easily transferred to a variety of card shapes.Elegant winter roses wedding theme is beautiful...
Color Changeable Envelopes
These convenient pre-addressed envelopes have many size and style options. Monogram and initials on the front or back add a finishing touch. Change the colors to match your stationary perfectly!