Elegant floral bat mitzvah invitations are easily personalized with photo and event details. The zazzle design center makes customizing easy.
Templates for floral bat mitzvah invitations are beautiful in winter, spring, or fall. Magenta pansies, pink hibiscus flowers for summer bat mitzvah invitations, and teal and beige roses are perfect for a variety of bat mitzvah themes.
If you would like to see a pinterest board full of popular and trendy 2023 bat mitzvah ideas, go to Popular Bat Mitzvah Invitations, Party Decorations
And if you'd like to see ideas for Bar Mitzvah invitations switch over to these Modern Bar Mitzvah Invitation Templates

Magenta & Turquoise
Cheerful Pansies
Versatile floral templates perfect for a wedding, graduation party, Quinceanera, or Bat Mitzvah. Magenta pansies with turquoise backgrounds are charming with envelopes, labels, and rsvps. Choose between sizes and paper types, or transfer the design to another product. Floral bat mitzvah invitations design brings beautiful flare to violet, hot pink, burgundy, or plum theme colors.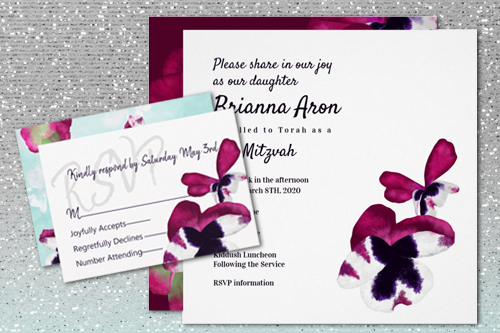 Pink Hibiscus & Gumdrop Bat Mitzvah Suite
Tropical Floral Bat Mitzvah Invitations
Celebrate your summer bat mitzvah with pink hibiscus, tropical ginger, and gumdrop flowers. Aquamarine island leaves and pink watercolor design is complete with rsvp cards, thank you cards, and mailing labels. Perfect for pink, magenta, turquoise, aqua or teal beach birthday themes.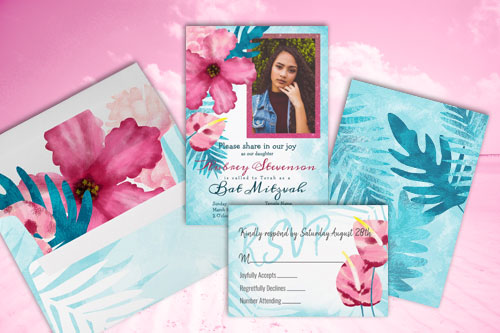 Teal Rose Bat Mitzvah Set
Elegant Garden Rose Aesthetic
Teal and beige garden rose Bat Mitzvah invitations will charm your guests. They are easy to personalize, and other size choices are available. These vintage floral invitations are adorable as a set and are easily customized for other celebrations.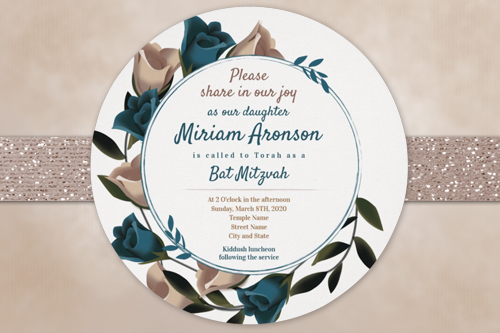 All items are printed on-demand from Zazzle. In some cases it can be eligible for replacement or refund.
Please refer to Zazzle's shipping policies for information on returns and turn-around times.