Personalize your floral mothers day gifts with your own special message! Personalized throw pillows with children or grandchildren's names, cute mugs, and shirts are all unique ways to honor mom or grandma in 2023.
Personalized Throw Pillows, Mugs, and T-shirts
Tropical flowers, fall & summer blooms are all great for a mothers day gift in spring.
If you would like to see even more unique gift ideas for mom or grandma, go to Lamps, Pillows, Home Decor, Personalized Messages

Best Grandma Pillows with Beautiful Floral Designs
Floral mothers day gifts with magenta pansies and orange tiger lilies are beautiful with kids or grandchildren's names.
Easily personalize these cheerful personalized throw pillows with your own message of love. List of kids or grandkid's names displays beautifully with lilies and pansies.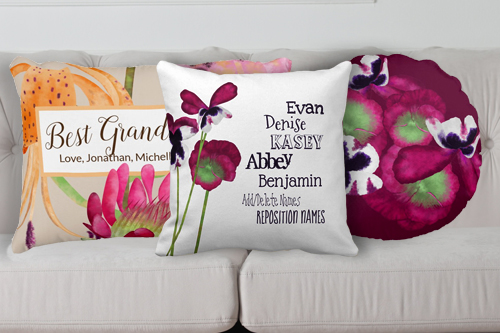 Hawaiian Cocktails with Colorful Tropical Flowers
Floral Mothers Day Gifts with Coral, Pink, & Bahama Blue Island Flowers
Yummy Hawaiian drink names with plumeria flowers and a calla lily is beautiful for mom's living room or patio.
Mom or grandma will love her t-shirt with a list of Hawaiian cocktails. Drink names are colorfully displayed in coral, pink, tropical teal, & bahama blue writing.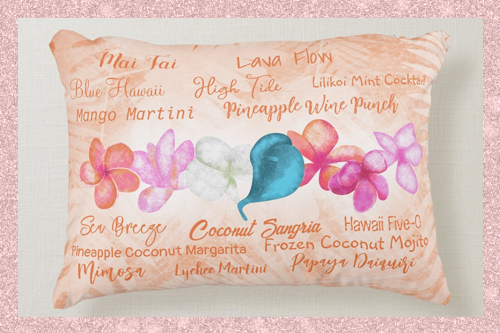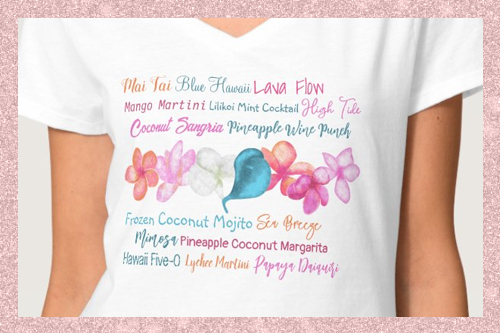 Consider Using Wedding Floral Designs for Mother's Day Gifts
Easily modify the wording or transfer the artwork on these wedding cards for a beautiful floral design for Mom.
All items are printed on-demand from Zazzle. In some cases it can be eligible for replacement or refund.
Please refer to Zazzle's shipping policies for information on returns and turn-around times.