Personalize these popular 2023 quinceanera invitations and tiara glitter quinceanera invitations easily with your photo and details for your Mis Quince birthday bash.
Deep jewel tones and soft pastels, these popular 2023 quinceanera invitations include an array of tiaras, butterflies, and dragonflies. Violet and purple gemstone artwork is beautiful in the tiara glitter quinceanera invitations collection.
If you would like to see my pinterest board full of ruby red quinceanera ideas I've put together, go to Elegant Red Quinceanera Invitations And if you'd like to see ideas for Bar Mitzvah invitations switch over to these Popular Blue & Green Butterflies Quinceanera Invitations

Blue & Red Butterflies and Decorative Photo Frame
Fancy and Elegant Quinceanera Templates for Your popular 2023 Quinceanera Invitations
Beautiful, elegant quinceanera invitations for a variety of dress colors. Vintage decorative photo frame and colorful butterflies for red, pink, blue, or green Quinceañera celebration. Coordinate with matching return address labels and rsvp cards.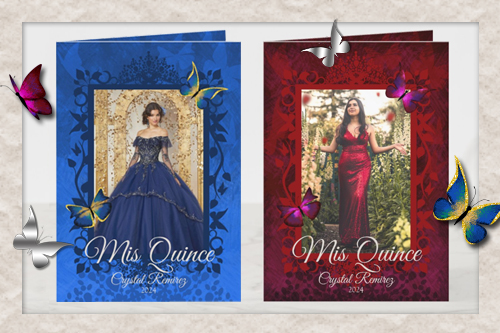 Whimsical Dragonflies
Purple and Blue Options for Your Elegant Quinceanera Invitations
Celebrate your bat mitzvah with whimsical blue or purple dragonflies. Watercolor textures with glitter horse carriage will dazzle your guests on elegant quinceanera invitations, rsvp cards, envelopes, labels, and stickers. Easily transfer the colorful dragonfly designs to other cards and gifts.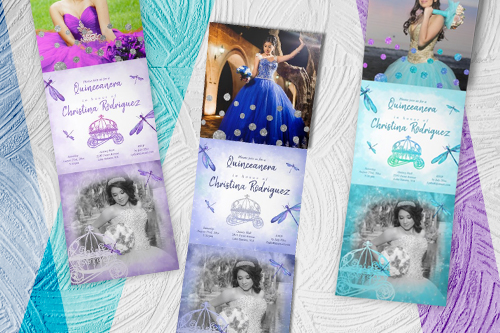 Consider Whimsical Bat Mitzvah Invitations
All items are printed on-demand from Zazzle. In some cases it can be eligible for replacement or refund.
Please refer to Zazzle's shipping policies for information on returns and turn-around times.